Well, the blog is back. Here's the temporary one from "Run Fatbrent Run 2":
Well, my old blog seems to be on hiatus, so for the time being I will start a replacement until google can get it back for me. Don't expect me to spruce it up too much, but for now it's home. It's been over a week since my original had its issue and fell off the map, and I've had at least 3 itches to write entries. At this point, it just can't wait any longer.
First of all, the secret weapon shoes I had bought for running in the snow; they and I had a few issues. The first thing was, despite feeling better at the upper size, they were slipping all over. So back to 13's I went after one snow run. Shhh, don't tell the store I wore them. The 13's are a little tight, but (as I had previously forgotten) so were my Kanadia tr 2's when I started. Anyway, I think we're good now. I don't think they are built for road races, though. They slip too much on wet pavement, but we'll see if that changes with a little wear. I still would like to get something to go over the shoes for snow, even though the Adidas are pretty good in the powder.
The weather is still a major factor in the runs. In three runs since the old blog went AWOL we've had some interesting conditions. One run (on the trail) with deep snow over uneven slush that froze to ice, which tested the ankles pretty good. We had one in my neighborhood with an ice pond from a water main break. In that case, trying to go across was a bad move. My feet went through the ice down to pavement covered in another thin ice layer with flowing water over it. After 2 failed attempts to go through, we just gingerly walked around it. Apparently fixing the break shut down 2 lanes of traffic on Monday. Yesterday, the trail was with about 3 inches of snow, and we didn't get but a mile down before the timer went off.
The frustrating part about the weather is that we have absolutely no idea where we are, shape-wise. There's nothing to guage where we're at, or where we'd be at on dry land, because every time we go out, it's something different. The snow doesn't just create a layer to slow us down, it creates a layer of doubt and a haze of uncertainty making us wonder whether we're even doing ourselves any good right now. Sure there is something in just going out there, but is the snow making us stronger in our legs, or are we using it as an excuse to half-ass it out there? I really don't know at this point.
I can say right here and now that, yesterday, I didn't push at all. Jason was struggling (which is still faster than I want to go) so I took it easy (or easier than usual). At the same time, I haven't made good on my word to be healthy this week. I saw some weight loss last week, and I got too happy with myself (also, because, despite my insistence I haven't lost hardly any weight, I am down 28lbs since July '09). I hadn't had any fast food yet this year until this week, and I didn't keep that streak going. Wednesday, I decided to try Burger King's Jalepeno Cheddar XT, and after a quick coupon check, found out I had a buy one get one coupon. So there I went eating two of those, back-to-back, without batting a lash. Yesterday, just 2 hours before our run, mind you, I had a large Quiznos Chipotle Prime Rib sub. I then proceeded to wash that sub down with...no, not a large soda, that'd be bad enough...but a footlong Subway Meatball sub.
You see though, I do things like that, and publicly calling myself out from now on might be a good thing. You see, I'm a sucker for fast food promotions, and right now that Beefy Crunch Burrito at the Taco Bell is beckoning. The revelation that Taco Bell has only 35% beef in its meat just has no ill effect on the appetite. At least yesterday, I cut myself off after lunch, and ate no more the rest of the night. Still though, I'm sure I was way beyond my daily caloric intake anyway. Sadly, I was still completely starving until I went to bed, and almost caved into making some microwave nachos. I swear my appetite is its own animal. If it could take form, it would be exactly like that "me want honeycomb" monster, but with more varied taste buds, and the resolve of the Ranch Tooth.
Wonder what a hybrid of them would look like...maybe it's a project for photoshop when I get home...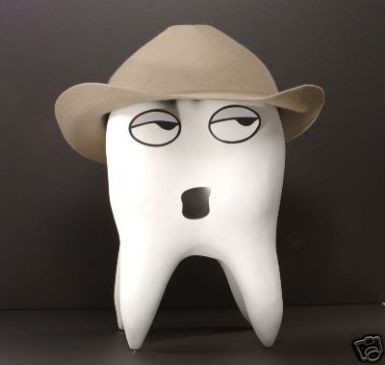 I'm going to try to have a caloric make-up day today, burrito or no. So far I've only had 500 cals (at least according to Tim Horton's website).
More later...happy to be back.